Better than a face lift, a third of the price, and no risk!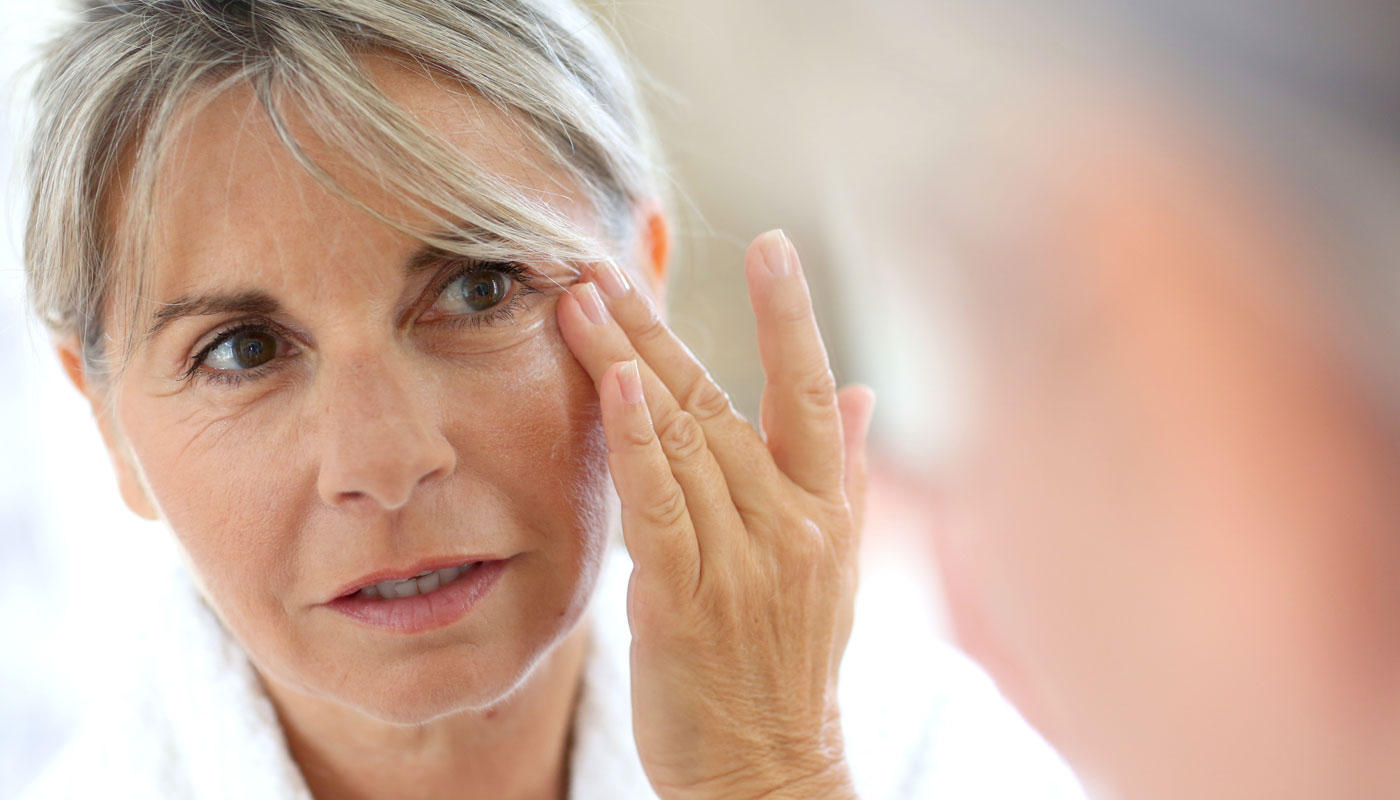 Fractional CO2 resurfacing has proven to be extremely effective in treating age related skin laxity, wrinkles, pigmentation, scars and many other conditions. The newest fractional CO2 laser to hit the market is the powerful yet versatile CO2RE from Syneron Candela. The CO2RE features dual laser waves that can be adjusted to penetrate the skin at both superficial and deep levels simultaneously while cleaning,clearing and resurfacing the skin at the same time. The treatment is very safe, fast and effective, resulting in brighter, younger and fresher looking skin.
How Fractional Lasers Work?

Fractional lasers treat a fraction of the skin at a time. Essentially the laser drills a multitude of tiny holes into the skin; vaporising what it comes in contact with and creating miniature wounds in a shape of columns forcing the tissue to heal. The skin between the columns remains intact. This process of "controlled trauma and wound healing" induces a rapid regeneration of the treated skin. The replacement of the old skin with new healthy skin leads to reduction of previous pigmentation, wrinkles and laxity improving the general skin quality and appearance.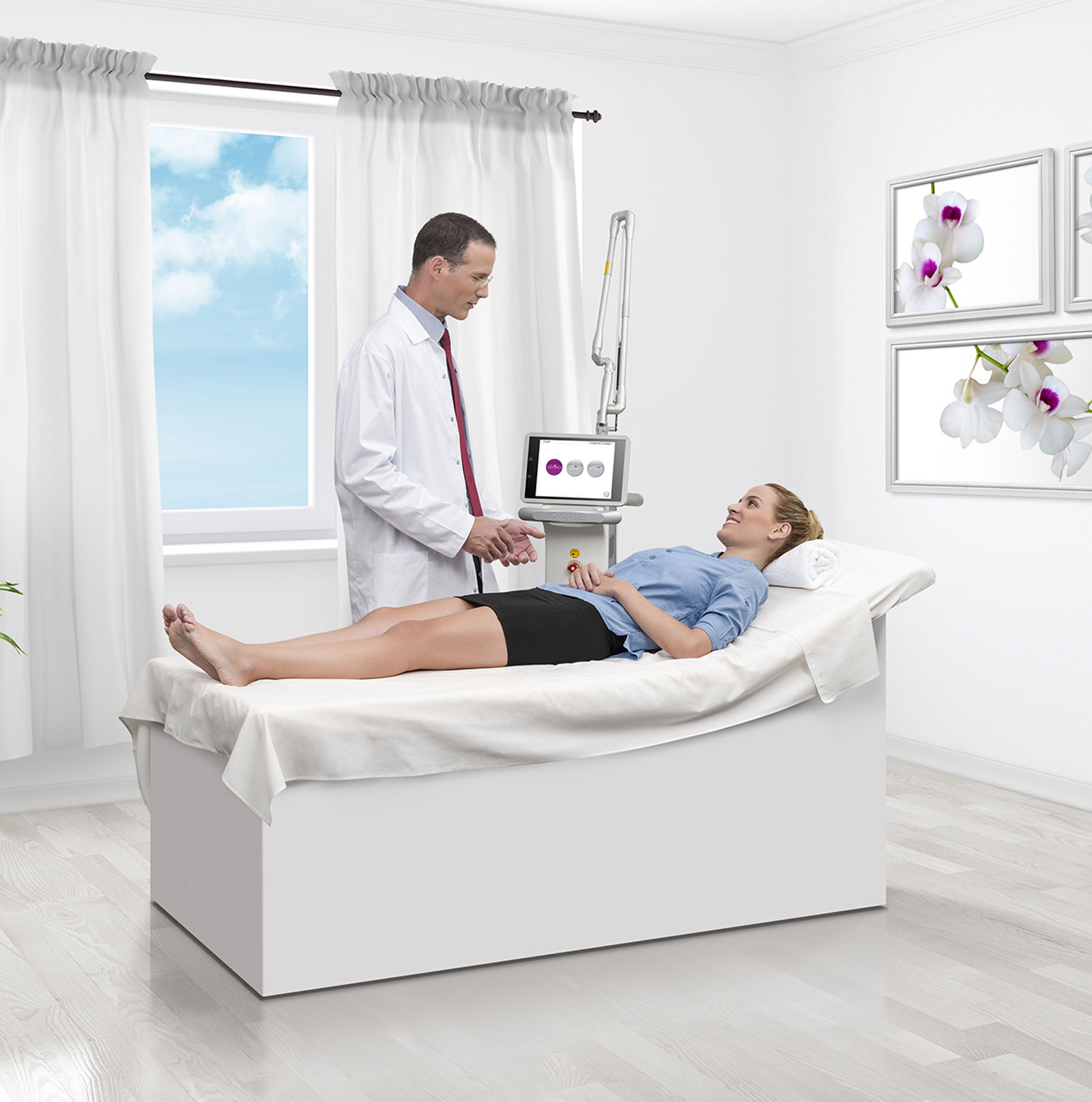 Some questions about CO2RE you may have
What are stretch marks?
Rapid stretching of weak connective tissue over the skin can lead to the visible lines on the skin called stretch marks. They commonly appear as a result of weight gain, for example during pregnancy or puberty. Weight gain during pregnancy can lead to stretching of the skin around the waist and breasts, but unfortunately loosing weight after pregnancy often doesn't improve their appearance.
Although stretch marks don't have any medical implications, they may affect your confidence or they are simply unpleasant to look at.
How can stretch marks be treated?
One of the greatest breakthroughs of the decade in the treatment of the stretch marks is the CO2 fractional laser resurfacing treatment.
Clinical studies show that decrease of surface area of striae was significantly more after laser resurfacing with Fractional CO2 laser, compared with topical therapy. Fractional CO2 laser seems to be one of the most effective methods of treatment of stretch marks. Many other treatments also exist like topical creams and oils but they take more than 6 months just to show an measly improvement of 10 to 20 percent.
Why is CO2 laser treatment so effective?
The Fractional CO2 laser is most commonly used for skin resurfacing of the face but recently has been shown to cause great improvement in stretch marks. It works by ablating a fraction of the treatment area while the surrounding skin tissue is untouched and therefore, not damaged. This not only proves to be a less invasive procedure with faster recovery times, it also produces better results as the collagen production can work in conjunction with existing, live skin tissue as opposed to the entire treatment area being damaged at once. A CO2 laser treatment allows up to a 75% reduction in noticeable stretch marks just after a few treatments. For pregnant women, it is recommended to get laser stretch mark removal treatments as soon as possible after their delivery. The sooner they are treated after their appearance, the better. Many middle-aged men and women also opt for fractional CO2 treatment for stretch marks.
What is the CO2RE procedure like?
The procedure involves skin resurfacing with the use of a CO2 laser. First your skin will be cleaned of make up (if required), surface debris and excess of sebum. Then an anaesthetic cream will be applied to the treatment area to make the skin numb allowing for the procedure to be comfortable and virtually painless; sometimes some small discomfort may be experienced. Generally the time required for the treatment is determined by the surface of the treated area for example facial treatment can take as little as 20 minutes. One of the most positive impacts of this treatment is how safe it is and that there is virtually no contraindications to treatment.
What is CO2RE?
CO2RE is the latest generation fractional laser system that enables practitioners to treat the skin's surface effectively and with excellent precision. It targets from superficial to deep dermal layers in addition to performing traditional CO2 resurfacing. The depth of the penetration of the laser beam depends on what is being treated and where.The multiple settings allow adjustment of the energy levels, depth and the fractional treatment of the area to be treated. CO2RE also has the ability to treat both superficial and deep layers of skin simultaneously whilst providing maximum precision and control of depth of ablation.
The treatment with CO2RE offers more resurfacing options compared to traditional laser ablation giving the best possible results.
With CO2RE laser skin resurfacing treatment, patients experience improvement in:
Facial lines and wrinkles
Sagging & Loose skin on face and neck
Aged skin on Décolleté
Scars
Stretch marks on arms legs & breasts
Stretch marks on abdomen ( mummy tummy)
How many CO2RE treatments ?
You will usually find a significant improvement after only one treatment. In the days after the treatment your skin will gradually look softer and smoother. Age spots will start getting lighter and skin texture will start showing signs of regeneration. The fibroblastic response will continue for several months post treatment but most will see a significant improvement within a month. This will then continue for 4-6 months. For more advanced signs of ageing such as deeper wrinkles, severe skin laxity and marked hyper pigmentation two or three treatments may be required to achieve the best result.
How long will the results last?
The results of fractional resurfacing are similar to those of surgical procedures lasting up to 5 years. However, it is recommended to have a light treatment each year in order to maintain the skin enhancing results by delaying the ageing process. There are factors that will determine how long you can expect the results to last such as your health, age and how well you care for your skin.
What can I expect after my procedure?
Immediately after the procedure you can expect a sensation similar to sunburn such as burning, some redness and swelling which may last up to several hours. These effects depend on the intensity and depth of the treatment. In the days following treatment you will experience skin tightening and peeling of dead skin from the treatment area. This is a natural exfoliation process that may last seven to ten days. A specialist after care pack is provided by the clinic along with useful skin care tips to prolong your results. Downtime ranges from 7-10 days.
A personal contact number will also be supplied so you can contact us directly regarding further post treatment advice; we will also make a courtesy check up call within one week of your treatment to check on your progress. Finally a post treatment review is carried out at around two weeks.